An applicant can pay the fees via Wire Transfer or credit card (on the KIPO website) as the following information:
Wire Transfer
1) Name of the bank : National Agricultural Cooperative Federation, Government Complex Daejeon Branch
2) Account number : 676-01-011484
3) Name of beneficiary : KIPO
4) Swift code : NACFKRSE
Credit Card
1) Access to KIPO website
* https://www.patent.go.kr/smart/jsp/kiponet/fe/feepayment/FEPctChargeList.do
2) Choose the type of payment you are trying to make. For Chapter II Demand, after filing the Demand please try to pay the fees inputting the PCT application number and file reference number as a PW, and then click "search" button. You may see a screen for the payment. If you are using a credit card for payment, we suggest you to try to pay the fees on KIPO's website in 1 to 4 business days after you submitted the demand to IPEA/KIPO. It might take time to upload payment information on KIPO's payment system.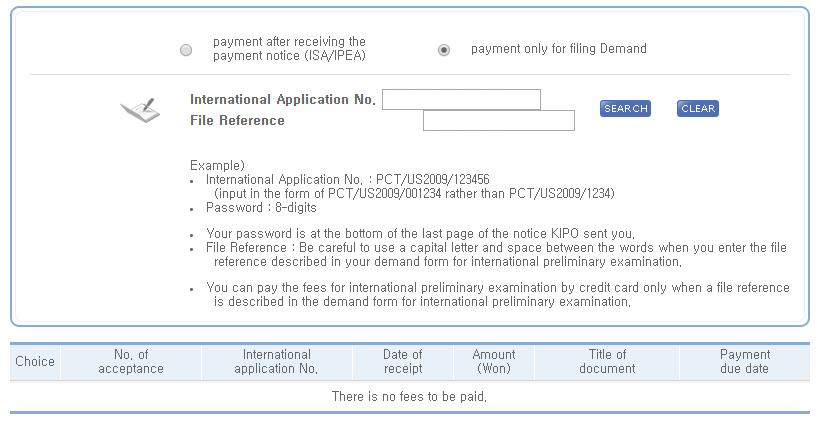 3) Or if you have received an invitation or a notification CONCERNING PAYMENT OF other fees or Demand fees(Form 403) the letter has a password to access KIPO payment system. Please use that number as a PW.
There is no service charge for the card payment. After you submit your payment the transaction cannot be cancelled.
< PC Environment for PCT Fee Payment>
- OS : MS Windows XP, MS Windows Vista, MS Windows7(32bit)
- Browser : MS Internet Explorer 7.x, MS Internet Explorer 8.x, MS Internet Explorer 9.x(32bit)
* A web browser for the credit card payment system of KIPO must allow Active-X control in the internet option (Or you might find a pop-up window message for Active-X control located on the top or bottom on the screen and allow it) and install the payment ActiveX, the INIpayplugin(which is provided by the online payment service(INICIS)), for an internet secure payment.
<VISA 3D Secure>
- KIPO accepts Visa and Master Card. VISA 3D Secure should be provided by your card issuer. (If you have not registered your card for VISA 3D Secure, please directly contact your card issuer.) - The 3D Secure is an authentication service for online credit and debit card transactions and developed by Visa. The 3D secure registration methods differ depending on the bank or countries issuing the credit card.